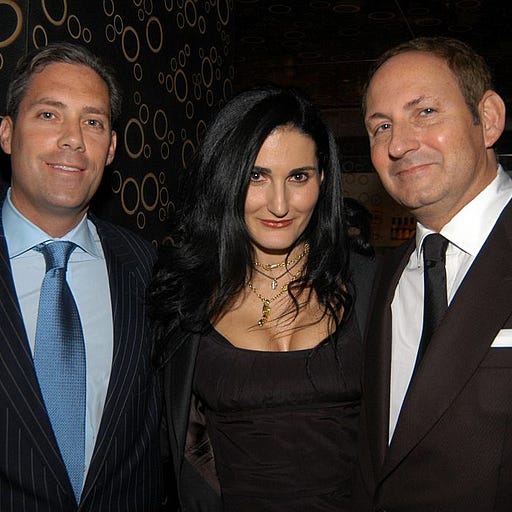 Apr 17
My Tales Of A Corporate Call Girl
How pure do we need our content to be? Let's discuss.
When your life gets bat sh*t crazy, I can help. The podcast of the Atoosa Unedited newsletters!
Hey,
One of my favorite dances seems to be back: The tango cosmetics companies do with magazine Beauty Directors. Maybe due to Covid restrictions opening up, maybe money is flowing again for cosmetics companies, I honestly have no idea because I'm not a magazine insider anymore, but I'm taking in the view (and effusive product recommendations) on IG.
The very first beauty junket I went on as an intern was for Unilever my senior year in college. It was across the Hudson River in New Jersey, but they had a swanky boat taking us there and they gave every attendee a tote bag stuffed with more product than I had ever owned in my 21 years alive. The tote itself was a designer bag worth hundreds of dollars. I could have died. It didn't take much to impress me then, but my goodness, to this day, I get starry-eyed remembering that trip to…Jersey, of all places! I also remember the camaraderie between the many different editors. They all knew and liked each other. Like a sorority of girls with great energy and beautiful hair.
We Fashion Editors were also treated to lots of great junkets. One of the most memorable for me was when Joe Boxer took us all to Iceland for a long weekend. Somewhere in my storage unit there exists a really funny picture of me, Rachel Zoe and Finola Hughes, of General Hospital fame at The Blue Lagoon in Reykjavik. At the time, Rachel was still known as Rachel Rosenzweig and she was one of my closest friends in NY before she moved to LA and became the phenom she is today. My funniest memory of this press trip was being so annoyed with Rachel that, she was (in my eloquent words), crawling up the ass of a C-list actress. Rachel was enchanted by Finola. I was mortified. (Yes, I was a total bitch – welcome to pre-teen-magazine Atoosa – I can own it.) Rachel's inclination to sidle up to the only celebrity on the trip was certainly a foreshadowing to her huge career as a celebrity stylist. And my horror at the sight speaks to my own waning interest in the industry as celebrities replaced models. But I digress.
There were so many of these over-the-top trips. Wolford hosiery took a group of us to tour their factory in Breganz, Austria and showed us their beautiful country in unforgettably high style. I remember literally running across these perfectly green hills singing, "The hills are alive, with the sound of muuuuuuuusic." It was a scene out of a movie. One night we had dinner at a stunning restaurant with a view of Luxembourg, Switzerland and maybe Italy?? Germany?? I don't remember. I just remember me and my $35K a year salary would have never otherwise had that experience. Nor would I have met the super-hot blonde, English guy who was also at that dinner and kept calling me from all over the world (I'm at St. Andrews; I'm in Ibiza!) to figure out where in the world we could meet up for our next and first date…which never happened…because I got engaged. Wah-wah!
My point in sharing all this is to say, I have participated in this culture. I loved my fellow editors from the other magazines and we didn't make enough money to stay at or have the incredible experiences these deep-pocketed companies would lavish us with so it truly felt like a dream come true. This emoji - 🤩🤩 - really covers how I felt start to finish on each of these wonderful trips. Now, the rebel in me went on the trips but never really made good on the quid pro quo part of the transaction. Probably because before I went on my first-ever trip, my Editor in Chief at the time, Bonnie Fuller, looked me square in the eye and said I could go, but I was not to promise any editorial coverage so I had that boundary intact from the get-go. I thoroughly enjoyed the trips, loved my travel companions, but usually didn't run anything editorially.
Beauty editors have it harder because cosmetic advertisers have much deeper pockets than most fashion folks. So not only are they getting sent to the best hotel and lifestyle experiences in the world to grease them up, but those same companies are also big advertisers for the magazines they work for. Back then, the unsaid rule was that editorial would always give special consideration to advertisers. Add to it, cosmetics companies hire the loveliest, most fun PR people so the Editors also become close with them. You can see how tricky this is getting, right? No one is trying to be duplicitous but it's easy to promote your friends' products, especially when they show you such generosity and you're getting pressure from the advertising department. When I was an Editor in Chief, I felt really threatened by all these pressures. I remember having aggro conversations with my Beauty Editors like, "Don't pitch me any nonsense because they sent you on a trip." Because every other week, there would be some spectacular press event to promote some new "groundbreaking" technology and the beauty companies would roll out scientists and experts to explain the innovation, yada, yada, yada. Meanwhile there are basically a couple of products that are truly the best – the same dumb-ass products then, as now. And most everything else is just marketing, hype and bullshit. (Except, I do think there have been great innovations in Clean Beauty which I've loved discovering for myself).
So as I see the beauty junkets flashing on my IG, I was feeling a little triggered tbh. I wanted to understand what it was rubbing up against inside of me. Like, first and most obvious, I wondered: Am I jealous? No…in all transparency, I can afford to go to these super luxe places on the reg (thanks to my beloved husband-legally-but-he-just-had-a-baby-with-someone-else so…is he my husband? Wheeeee!). So no – it's not jealousy over the trips. I go on awesome trips. Am I feeling left out because I'm not at a magazine? No, I don't think so. Although the idea of having a big ass budget and open reign like old times does sound like a lot of fun (but I realize that's like wishing for unicorns and leprechauns). So, no. I would not want to be at a magazine in 2022.
But after marinating, this is where I landed: I felt like a corporate call girl when I was working, and I still have some shame around that.
Although I didn't fuck advertisers (well – I didn't figuratively fuck them by giving them editorial in exchange for advertising dollars – I did literally fuck one – but we were in a relationship!), I did prostitute myself for my employer. I was there as a good corporate employee - no matter what. Like once, I was called to star in a diversity and inclusivity ad. (I appeared alongside BIPOC employees – the very, very few there were – and I don't really self-identify as a woman of color, but clearly to my very-white employer, I was.) Inside I thought, what are we doing here? Let's make change…not an ad campaign trying to give the illusion of diversity! But I didn't say that. Instead, I smiled for the camera playing the role of their most successful BIPOC employee. I feel ashamed of being a powerful person professionally, and yet feeling unempowered to speak what I was seeing and experiencing. Big missed opportunity on my part.
And as a young, attractive Editor, I knew which advertisers I needed to smile extra big for…and maybe show extra leg for. No one told me to it. I did that all on my own. It was just one of the tools in my kit. I didn't feel dirty at the time. But I was also an unprocessed survivor of incest. I'd known the power of sex from a young age and I used it to benefit my magazine. To be clear, I never slept with anyone strategically…but honestly, I didn't need to. I got what I wanted without that. And yeah. It's cringey, but true.
There are a lot of shady industry practices that I've thought about over the years. Perhaps you already know that the makeup you see inside and on the cover of most magazines is usually never the makeup they're crediting. Like you may see the perfect lipstick shade on so-and-so celebrity on the cover of such-and-such magazine – but whatever it says in the credits is not the actual lipstick. Often the best shades and formulations are made by non-advertiser brands and cover credits are something publishers like to bring back to their big cosmetics clients as a gift: A sign of how much the editorial team values their products. A big part of a Beauty Editor's job is trying to find the closest match for whatever makeup the artists use on the shoots. This is industry standard. Or if a celebrity with an ad campaign is shot for a magazine cover, no matter what makeup is used on them, the credit will go to the company they are contracted to. And I assure you, no top makeup artist is using Cover Girl or Neutrogena makeup. Their goal is to get the absolute best look. So the Beauty Editors have to hustle to make everyone happy.
I wonder what style content would look like, if there wasn't so much muddying the waters. I wonder how much more helpful it would be?
We won't find out from most influencers. They seem even more beholden to their freebies and sponsors and yet they're lacking the great training of the Beauty and Fashion Directors of the past. And, of course, the wealthiest influencers have gotten out of shilling for other people and instead are making their own brands to pout and purr and promote. Are they any good? Do we even care? Are we even looking for quality? Who do we trust? If Editors and Influencers are themselves influenced by deep pocketed benefactors: Who. Do. We. Trust? What is pure? Is pure even important? Do we care who truly makes the best mascara? Or are we all okay with going with whomever has the biggest promotional budget. Does it matter if the prostitute is a prostitute as long as the couple looks beautiful and in love like Julia Roberts and Richard Gear?
I have no answers, but very much care about yours. Please comment below. Always here, 24/7, as always, at atoosa@atoosa.com. (Oh, and I'm wearing Lancome Hypnose mascara – and uh…no one paid me to say that!)
xo, atoosa