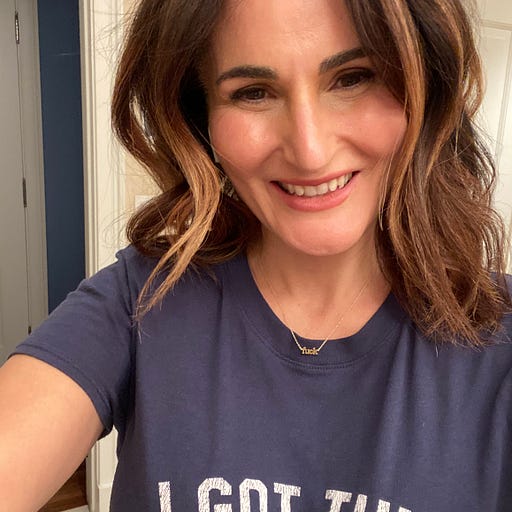 May 1
How I Finally Found Joy
Wanted to share the text of my TEDx talk with you.
This episode is for paid subscribers
When your life gets bat sh*t crazy, I can help. The podcast of the Atoosa Unedited newsletters!
Hey,
I slept until 11 today. That really felt good. I hadn't written anything for this week's letter and then I remembered, of course, I wish you were all there yesterday at TEDx Asbury Park so let me share my talk with you. Paid subscribers will get a special reading of the talk (heavy on the vocal fry, friends, I'm sorry, I'm toast - I drove out to Long Island for a special midnight New Moon nature ritual) and my driving playlist titled, "Fuck, Yeah." (obv). I needed this rap heavy playlist because one of the comments the TEDx people had in advance of my talk was that I seemed embarassed of my accomplishments. And it's true - it was so interesting to see how uncomfortable I felt tooting my own horn. I was used to always having that done by a publicist or publisher. Listening to Jay Z, Kanye and Beyonce own their greatness was helpful for me. Oh, and next week, I will share something kind of profound that happened to me while I was at the conference.
My actual talk yesterday took place during the partial solar eclipse. Like at the EXACT TIME it started. I don't know what that means but maybe that's why my microphone didn't work at first - they quickly got me a handheld mic. It felt so good to be talking to a large group of people again. The first question someone in the audience asked me afterward was how did you memorize that whole thing? Omg. I ran through it just reading so many times. Then once it was mostly memorized, I would recite it with Youtube videos BLASTING at the same time. I would recite it in double time like I was racing to get to the end. I would recite it as a song that I was making up on the spot. I would recite it while driving in NYC traffic. I would recite it while doing bicycle curls. I even recited it standing on one foot. I made sure that no matter what was happening, I could recite it fairly well knowing that NONE of those things would be happening during the actual talk. I was pleased with my grasp of the talk itself…but not as pleased as I am now that it's OVER! As I re-recorded it for this Substack, I realize I might have stumbled a few times yesterday but I'm kind of amazed that I still ended it feeling so super proud of myself and not (and still not) focusing on any mistakes. Score one for the home team.
Without further ado, Leaving it all…To Have it all. Love you guys. Special thanks to my dear friends Sandi, Billy, Gena and David who had to read and listen to many different iterations of this talk and offered their expert opinions and ideas along the way. I love my friends. I hope you all have as good a friends as I have.
Leaving it all…To Have it all.
I'm going to ask you to journey back to grade school with me for a moment. In 2nd grade, my best friend was my neighbor, John. We'd wear the same comfy clothes day in and day out. Summer evenings while our parents were watching TV, we would take mason jars out to catch fireflies and endlessly ponder whether we would die – like ACTUALLY DIE – if we ate just ONE of the allegedly poisonous red berries that grew on his bushes. Those moments of soul dangling were so spacious and free. You remember those days, right? Not every part of my life was as ideal – like being an Iranian immigrant during the hostage crisis. Yes. You are meeting the one and only Ayatollah Atoosa from James A. Dever Elementary. And not to brag, but in my prime, my leg hair would've rivaled any man in this room. Not a coveted claim to fame in my Long Island hometown. But I was a dreamer and I had big plans for myself. I wanted to be a rock star.
Fast Forward to Barnard College. 1993. Graduation Day. By then I'd traded the Rockstar dreams of my childhood for fashion magazine glamour. My last two years of college, were spent hauling ass at different magazines. I was that buttoned up intern who handwrote nice-to-meet-you-I'm graduating-in-June notes to every single person I met in the industry. I was excited for my next chapter. I had a magazine job – which was great. But it was at… American Health Magazine. Don't get me wrong. It was a solid job with wonderful people. But I was a fashion girl! Inside, I was still that 2nd grader who wanted to be a "star!" But at least I had a job. And trust me, I needed that job. I had zero safety net. My mom put my siblings and me through college and grad school on 25 thousand dollars a year. I didn't have the luxury of being picky. But on that day, fate had a different plan for me. Just after my commencement ceremony, cap and gown still on. I got a call from Seventeen Magazine. Ten minutes later? From Cosmopolitan.
It felt like divine intervention.
I went on both interviews. Got both jobs. And ultimately went to Cosmo.
My life changed very quickly from there.
Within five years, I became the youngest Editor-in-Chief in the over 100-year history of Hearst Magazines when I created a teen magazine called CosmoGIRL! at age 26. I also married a really lovely boy who adored me and we had our love story memorialized in the New York Times Vows column. A few years after that, I was named Editor in Chief of Seventeen Magazine. I was Creator, Executive Producer and Star of my own MTV show. If you've seen any movies about Magazine Editors, this might sound familiar to you. Head to toe designer clothes paid for by my clothing allowance, professionally done hair and makeup by top celebrity stylists, car and driver at my disposal. But most importantly, I was good at my job. My team and I increased sales by 25% bringing Seventeen back to it's coveted number one spot. And I got all the awards that go with that type of trajectory: 30 under 30. 40 under 40. Start Up of the Year. My personal favorite – one of the 250 Greatest Graduates of Columbia University – number 122, ya'll - not bad for Ayatollah Atoosa! And that's pretty much how the first part of my career went. A lot of so-called dreams coming true.
The legendary Helen Gurley Brown, my mentor at Cosmo famously wrote a book called Having it All. And I really DID have it all. I was an influencer before it was a term.
I had the doting husband, the house in the Hamptons, a seat at the Met Ball, endless positive media coverage.
But all was not as it appeared. On the surface, I had all those external markers of happiness and success.
I. HAD. IT. ALL.
But inside…I had nothing. I was absolutely miserable.
Despite the pretty picture, every internal indicator was flashing red. I was showing signs of agoraphobia. I was cheating on my husband. I had no bandwidth for family or friends outside the industry. For recreation. For joy. I worked every single day except half a day on Sundays. I gave my husband Sunday afternoons.
On the outside, I was an It-Girl. Behind the scenes? Shit-Girl.
Which is why, at the height of my career..
I.
Quit.
Long before the Great Resignation, I retired. At age 35.
People often ask How did you DO it? As though it took courage or strength. But even though this WAS a life I'd dreamed of forever, once I was in it, I stopped following my own compass. I got seduced by success and lost sight of my own needs. It was like sitting in a jacuzzi overlooking your dream life and gradually the water is so hot, it's boiling you alive. Getting out was the only option. Before that, I didn't know you COULD say no to opportunities and success. It's like NOT moving FORWARD when you get a green light in your car. But there was a day just as I was about to sign my latest contract that my husband, a trader, made exactly as much in one day as I made in a year. Which was a lot. Nothing like that had ever happened before or after. I told him I need to stop. Can I stop for a year? And that, my friends was the last stroke of divine intervention in my career. I believe his good luck and generosity – and yes, our priviledge- saved my life. I was the lucky lobster who got out of the pot.
Sadly, along the way I had sold this toxic You-Go-Girl culture to an entire generation both by example - If I can do it, you can do it, too. And more explicitly though career and ambition-based content we jammed both magazines with. How much of my disease did I infect my young readers with before I disappeared to deal with my burn out? Only to reappear now, as they are dealing with theirs.
I was so burned out, I didn't even look back. I totally cocooned. I had three children and that one year off turned into a 13 year-long complete psychological and spiritual excavation of my inner life. 13 years. The amount of time in the Jewish faith it takes for a girl to become a woman. And there was a lot to unpack in my emotional backpack that I do NOT want to gloss over – I'm a survivor of incest, struggled with co-dependance and a lifetime full of fear and worthlessness. All of this driving my thirst for affirmation. And I don't want to diminish what may be in YOUR emotional backpack. How we feel in our day-to-day is not just about what we're experiencing during those days – at work or otherwise. Many people, including myself during my magazine days, think that you can bury the past and just move on. But I learned we unconsciously carry all of our unprocessed adverse childhood experiences around with us like boulders and that heavy emotional backpack goes wherever we go. It took quite a while for ThatGirl to become ThisWoman. And lots of therapeutic support was crucial for me.
Over time, those warning bells started to quiet. I worked hard on my marriage. Began rebuilding my lifelong relationships with friends and family. And most importantly, the relationship with myself.
*I remembered I don't like to hustle. I like to saunter.
*And I don't need to perform. Not for my family. Colleagues. Social Media. I'm not on stage – even when I AM on stage. The pursuit of being special is toxic.
*Because my value does not come from my job, my status, or how many people follow me but from the intrinsic value that I share with every single one of you. Belonging is our birthright. You don't have to "lean in" to be worthy. And I didn't have to resign from my JOB to learn all of this. Perhaps the Great Resignation is simply an invitation to resign from trying to earn our self-worth through our output.
Today, at age 50, I come to you, no longer an It Girl. I'm going through a divorce from my husband to whom I will be forever grateful. And I aspire to be of service again to my now-grown-up audience. In some ways, my future is as uncertain as it was in 2nd grade. Most days, between mothering and writing you can find me with my best friend David exploring Central Park going on long walks, talking endlessly about life and letting our soul's dangle. Turns out, like you, I was born special and it's been quite a relief to stop chasing it. And so for the first time as a grown up, I have finally touched peace, joy and freedom. My fellow life voyagers…I wish the same for you. It's never too late to reset your compass. This time, following your own True North.
xo, atoosa
Soundtrack of my 🤍🖤❤️ - This was the first song on my driving playlist (Hint: very heavy on my beloved Kanye and Jay Z) - Paid subscribers get the full list below.
This episode is for paid subscribers